Recipe for a great exchange: the student
If it's the first time that you're embarking on an exchange, it can be difficult to know how to approach it. To help you to ensure that your time abroad is nothing short of spectacular, we've come up with the perfect recipe for making the most of your exchange.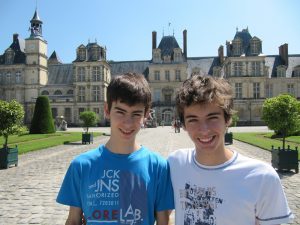 Throw yourself into the culture, head first
When in Rome, do as the Romans do – this works even better if you're heading to Rome! An exchange in a host family is culturally enriching experience as you will participate in day-to-day family life in another culture. Allow yourself to be fully immersed in the culture by saying yes to new experiences and stepping a little outside of your comfort zone. Whether it be food, a local tradition, or a family member's hobby – you're bound to learn something new and meet some interesting people along the way.
'Exchange' means giving one thing and receiving another; so whilst it's important to immerse yourself in your host families culture, remember that they'd love to learn about your culture too! Try cooking a meal, watching a classic film, teaching them a traditional song, or explaining idioms of your culture to help your family get to know more about you.
Communicate in your target language
This may need a little self discipline! When away from home, communicating in a target language can be frustrating and it's all to easy to slip into your mother tongue at the earliest opportunity. However, the more you speak your target language, the more you learn and the easier communicating will become. Although you may make a few mistakes, use every blunder as a way to learn something new by asking your host family and friends to correct you.
Arriving in a host family that you've never met before can be overwhelming and your instinct may be to hide away in your room – especially if you're feeling homesick! By spending time with your host family outside of organised activities, you'll begin to feel at home in your new environment and will become part of the family. Not only does this help to stave off any feelings of homesickness, but through interacting with the family you'll learn more about the culture and language, and will form lifelong friendships!
Written by Hati Whiteley for Kinder Exchange.