What we're looking for in a partner : dedication to kids & teens' well-being and development.
We're positively overwhelmed by all of the passionate feedback we got over the years, and we aim at bringing Kinder Exchange to new parts of the world! If you believe you might work well with us, fill free to tell us a bit about yourself and your vision. If we believe there is a fit, we'll give you a shout.
For any partnership with us, please contact us in France – Europe : +33 1 660 655 089 or by e-mail.
We are happy to present you our different partnerships with Kinder Exchange :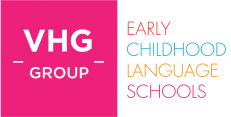 We make learning FUN! VHG Group Bilingual, Daycares /Preschools in New York (Upper East Side & West Harlem), welcomes students from all cultures and backgrounds and always values their identity and heritage. Our children's well-being, happiness, academic and language development are at the foundation of our learning model. Our French, Spanish, and English speaking teams motivate and guide our infants, toddlers, and preschoolers in becoming independent, confident, and caring, in a bilingual setting.

Loop of the Loom is home to New York City's first-ever registered SAORI weaving studio, gallery and authorized SAORI loom dealer. As one of the SAORI Leader's Committee members in the United States, Loop of the Loom has the pleasure of introducing this unique and easy-to-learn form of, what we like to call, « happy weaving » to the Tri-State Area since 2005.