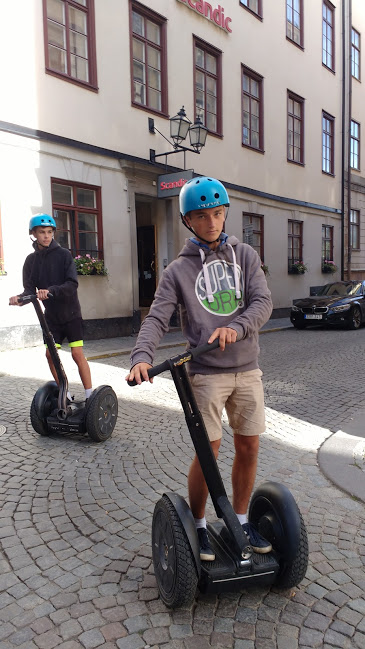 Our exchange between Lukas and Alexandre this summer went very
well indeed. In fact I think it surpassed expectations on both sides!
The two boys were very well-matched and had very similar personalities
and interests, which was wonderful.
Lukas was delighted with his stay with Alexandre's family in Brittany
and really enjoyed himself. They went paddle boarding, surfing, played
football and volleyball and spent a lot of time outdoors and on the
beach. The family were very hospitable and welcoming and made him feel
very at home.
Alexandre has just visited us in Stockholm and it was a real pleasure to
have him here. He was very easy-going and joined in with everything,
making the most of the whole experience. We are now talking about a
repeat exchange next year.
Samantha
Lukas and Alexandre
14 years old – Swedish and french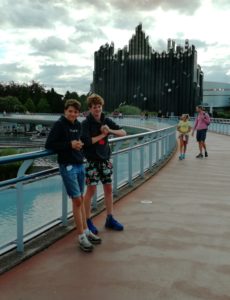 Just a quick update… Sebastian came home late Friday night after having had a wonderful time on holiday with Octave on Ile de Ré. The french family were so kind and welcoming and he really enjoyed himself.
Sebastian and Octave both just seemed to hit it off so well together so thanks again for your « match-making » skills. Two years in a row
See attached photos of the boys on the beach and at Futuroscope in Poitiers.
Samantha
Sebastian and Octave
14 years old – Swedish and french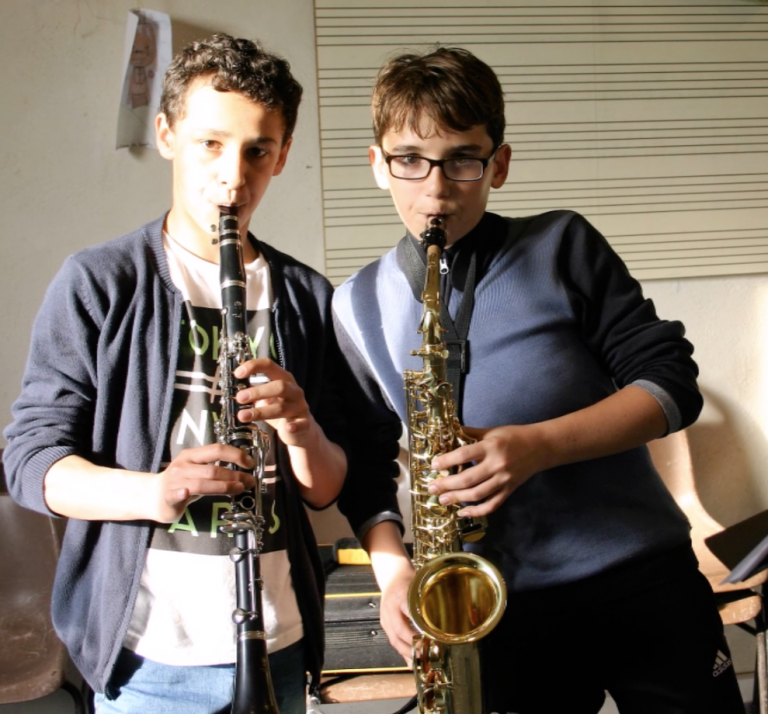 A remarkable experience for Ludo and Oliver who discovered their respective schools from the inside. Both of them have adapted very well and have made tremendous progress in language. We really enjoyed Oliver's company with the family for 15 days. The boys get along very well. A thousand thanks !
Ludo and Oliver
14 years old – American and French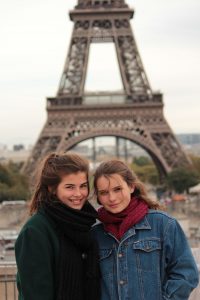 I wanted to thank you for putting us in contact with Kinder Exchange for Eleanor's French exchange and I am writing to let you know what a positive and wonderful experience Eleanor has had as a result. I also wanted to let you know that Kinder Exchange and the lady who runs it (Laure Colombier Chevalier) did a fantastic job in making all the arrangements and took great care of making sure everything was just right for Eleanor. Finally, I felt completely confident about the whole process of dispatching Eleanor off to France and the way Kinder Exchange organised it made me feel assured that Eleanor would be safe and well looked after – which she absolutely was !!
Mike T.
Eugénie and Eleanor
17 years old – French and Great Britain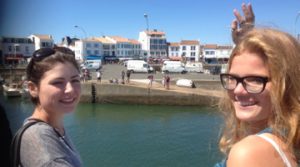 Rachael was made very welcome by Juliette's parents in France. They made every effort so that she enjoyed her stay in France. She got a tour of Paris. She was up in the Eiffel tower and the Arc de Triumph. She saw the Notre Dame and other famous landmarks in Paris. She also got to spend a number of days in Ile d'Yeu off the west coast near Bordeaux. She was also at Guédelon Castle where they are building a castle with the similar methods that were used in medieval times. Juliette's mother was really good to Rachael during her time there and was really friendly and went all out to make Rachael's stay enjoyable. Rachael definitely improved her language skills in France.
Charline and Carolyn
16 years old – French and Irish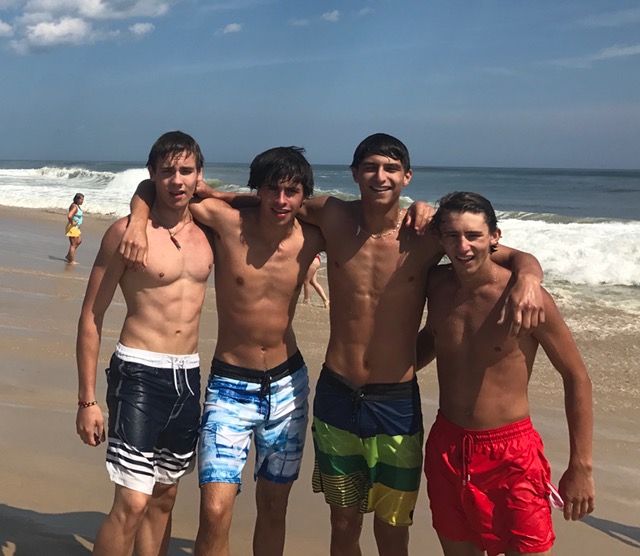 American and Spanish language and cultural exchange between Remy and Alejandro in Hamptons. Remy, Alejandro, Avery and my son Misha. Boat, beach at Sag Harbor at Hamptons, today Jetski and we go back to NYC. Tomorrow surprise (zipline on the highest zipline of the US) to celebrate Misha 18 years old anniversary and his departure to College. Alejandro returns to Bilbao on Monday. I wanted to share this with you.
Catherine G.
Remy and Alejandro
17 years old – Spanish and American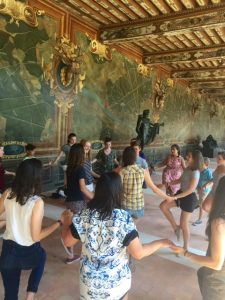 Traditional Renaissance dance and individual exchanges to families living in different area of Fontainebleau-Paris area. They all met up at Fontainebleau for a day of sightseeing and traditional dancing!
Alice and Julie
22 years old – French and Great Britain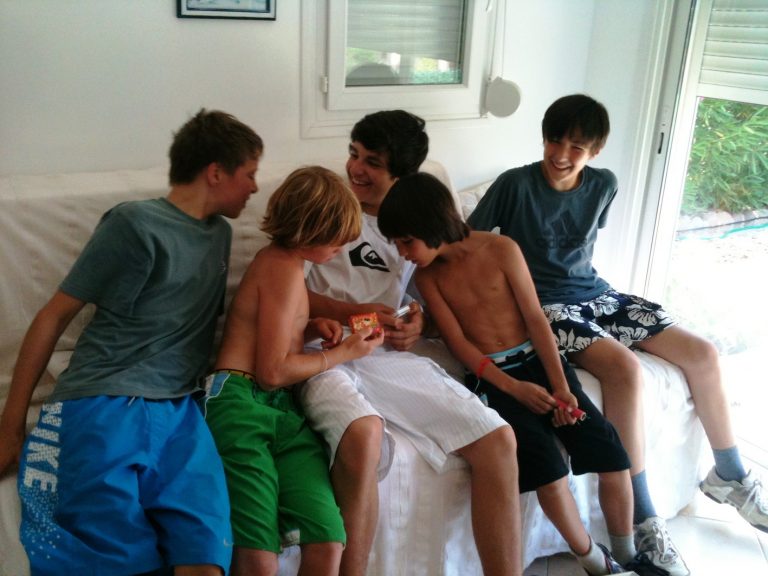 Ted flew off to Corsica on an unaccompanied minor ticket and for the next 10 days. Madame sent me mobile phone pictures every day. Ted in sunglasses on the beach, diving into a mountain pool,  with a gaggle of French boys, at the market,  delving into a vast ice-cream sundae,  eating pizza, up on a tree-top assault course.
He came back brown and very happy. He'd also acquired an unhealthy obsession with fireworks and hunted through Bristol high and low for bangers. Teddy had learned a language too. He spoke fluent French-accented English. « Pleeze pass ze buttergh. » We now had our very own little in-house Inspector Clouseau.  Read more here. Amanda M.
Teddy and Adrien
12 years old – French and Great Britain
Lea was a great match lovely happy girl and fitted into our family life like one of our own children. She was a pleasure to have and we will be sorry to see her leave.
Maria C.
Léa and Caoimhie
16 years old – French and Irish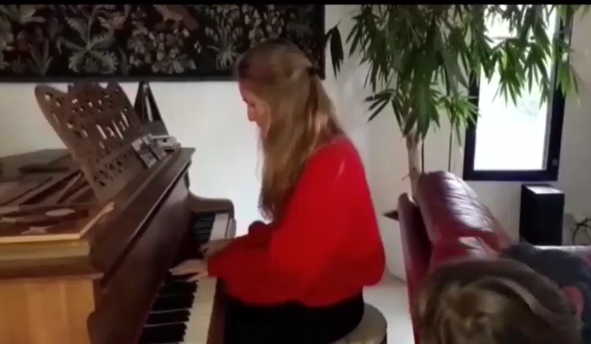 Aurora's placement is a TREMENDOUS success!
She has the most fantastic family and wonderful parents. The school is fine with no problems and she is spending an enormous amount of time going to the Theatre, Opera, Concert……..
A BIG THANK YOU to both of you for all your effort.
Kindest regards.
Caroline J. 
Aurora and Montaine
14 years old – French and Irish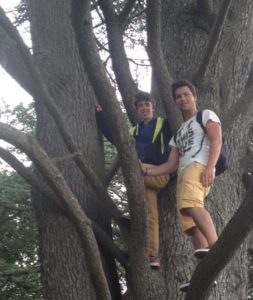 I was very happy with the exchange organised for my son, Sasha, aged 17. Laure and Carol found a lovely family and a charming French lad, and my son really enjoyed his time with them. We were nervous sending him off into the unknown, but Kinder exchange team was very reassuring and it all worked out excellently. It was also a lot of fun having the french boy over here, who fitted in really well. We are planning to do the same thing next year. I would recommend Kinder Exchange very highly.
Sasha's father
Sasha and Amaury
17 years old – French and Great Britain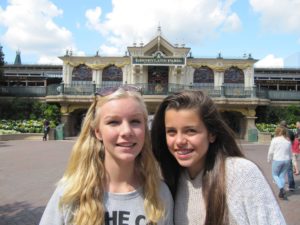 I can't thank you enough for finding such a perfect match for Olivia to exchange with, & all arranged so quickly & smoothly! She & Jade got on really well, their interests & characters were a fantastic match – it would have been impossible to find better. Olivia had a wonderful time during her exchange, visiting Paris & even going to Paris Disneyland. I would be delighted to recommend Kinder Exchange without reservation to anyone looking to arrange an exchange.
Olivia's Mum
Olivia and Jade
13 years old – French and Great Britain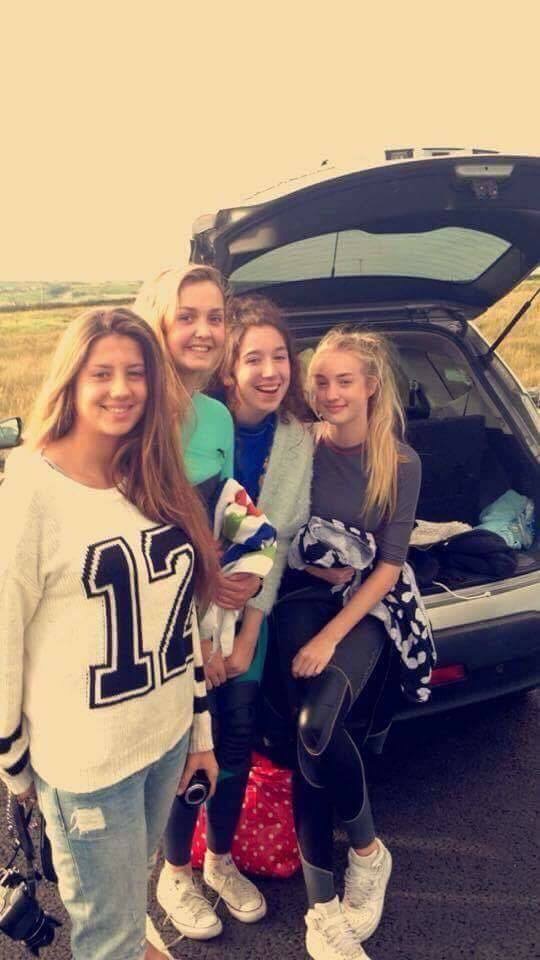 I can highly recommend Kinder Exchange. There were thorough checks and references for both families to put us first time exchangers at ease immediately.
Laure and Carol provided a professional service with an excellent match to ensure a great exchange.
Our daughter Isabel really loved her time in  Provence, France and because herself and Claire were well matched with interests it was easy for both to fit in with all the family.
« It's  a fantastic opportunity for students to experience French life at first hand and we really enjoyed having Claire visit our family. The girls are still in contact and will remain friends !Thanks so much at team Kinder Exchange! A pleasure to deal with.
Jennifer C.
Claire and Isabel
15 years old – French and Irish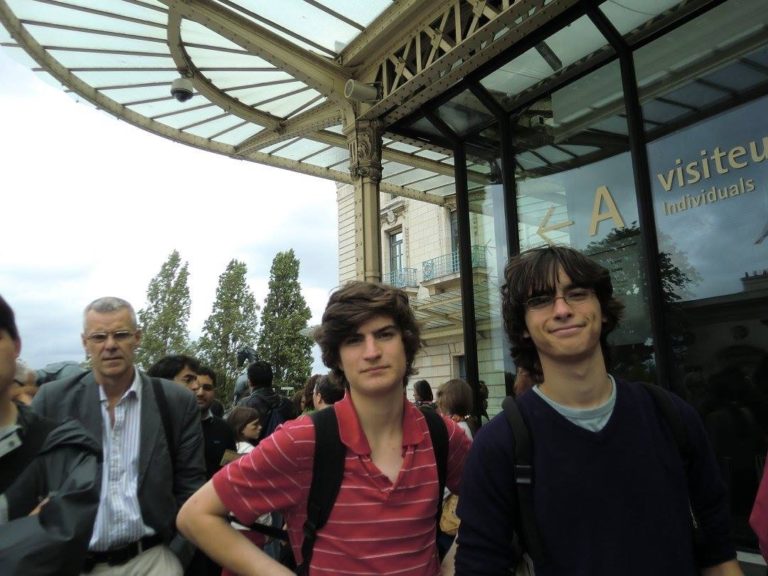 The exchange went really well, they had great fun on Braddock Island, loved topper sailing and boats and cycling. Antoine was so lovely.
Tommie adored France and didn't want to come home! Sailing and cycling in the south of France,  Sightseeing in Paris, somuch to see that he skipped the Musee d'Orsay and Le Louvre, but will go back. He came home so independent and confident having made a very good friend. Thanks for arranging.
Tommie's father
Antoine and Tommie
15 years old – French and Irish